The body is filled with dried beans for weight and stability, which means it makes an excellent door stop. Our free pattern has two faces to choose from. The face can be embroidered or painted on. I appliqued the eyes and nose, using iron-on adhesive (also called fusible web).
To learn how to use iron on adhesive, go to Applique Lesson: Fusible Web.
I designed this pattern many years ago. It is fun to see it being used now by so many. I had no idea when I first created it that it would become so popular. Enjoy! - Christina Sherrod
Approximate size: 11" x 11" (floor space) plus a tail.
Fabric
1/3 yard of 45" wide fabric (plus 6" square of contrast fabric if you want the face out of contrast fabric)
Filling
Head & Tail: Fiberfill Stuffing
Body: Dried beans - small beans work best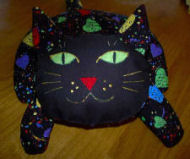 Face Supplies
Fusible Web (iron-on adhesive) & fabric for face applique, or fabric paints for painting on a face, or embroidery floss for an embroidered face
General Sewing Supplies
thread to match fabric background
sewing scissors
pins (I use quilting pins)
Pattern Pieces
My patterns download as pdf files. NOTE: For best results, save the pdf file to your computer. Print from your own file. If you print from the browser, the size will be incorrect (I have that problem with Chrome). Be sure to print at 100% size.
For more instructions on downloading pdf files, to to: pdf instructions.
Pattern: Face 1 (choose either face 1 or face 2)
Pattern: Face 2 (choose either face 1 or face 2)